What's for lunch? Tips for packing healthy school lunches
At the end of summer, the hottest nutrition question shifts from losing weight to what to pack for your child's school lunch. School cafeteria food is often laden with saturated fat and little fiber, so nutritious lunch box ideas are in demand.
How can you satisfy a kid's palate without sacrificing nutrition? Here are some guidelines to get you started.
Content provided by
What to pack:
Grain. Focus on 100 percent whole-grain bread, whole-wheat pita, tortillas, bagels, wraps or crackers.
Vegetable. Fill a plastic bag with baby carrots and grape or cherry tomatoes. You can also use raw veggies, such as broccoli, peppers or cucumbers - whatever your kids might enjoy. Send along a low-fat dip if it helps get the veggies down.
Protein. Spread peanut butter (without added sugar) or fruit jelly on banana slices. Include a hard-boiled egg, low-fat cheese or string cheese. Or pack tuna fish, chicken or egg salad with a little canola mayonnaise, lean ham, roast beef or turkey.
Dairy. Try skim or 1 percent milk, a container of low-fat yogurt or a scoop of low-fat cottage cheese.
Fat. Include a little fat for extra flavor. This will help keep your children satisfied so they won't be hungry too soon after the meal. A handful of nuts, a few slices of cheese or a bit of peanut butter are good choices.
Fruit. Throw in some fruit for sweetness. Choose firm crunchy grapes, strawberries or other berries; a medium-sized piece of fruit; or individual fruit cups packed in juice, not syrup.
Dessert. Dessert doesn't have to include a lot of sugar. Try packing graham crackers or ginger snaps, a small box of raisins, a slice of homemade quick bread, a muffin or natural applesauce.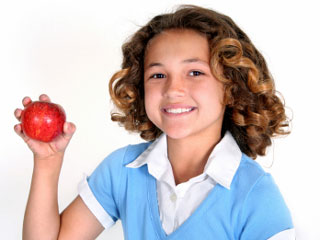 Get creative
Lunch can be something other than a sandwich. Try one of these healthy options:
Vegetable or chicken soup packed in a thermos.
A salad with added protein. Try slices of low-fat cheese, lean luncheon meat, cottage cheese, a hard-boiled egg or tuna fish. Pack low-fat dressing in a separate container.
A sliced apple smeared with one to two tablespoons of peanut butter. Include whole-grain crackers on the side.
Mini whole-wheat bagel with natural peanut butter or healthy butter substitute. © iStockphoto.com
Whole-grain cracker sandwiches with low-fat cheese or peanut butter.
A container of egg, chicken or tuna salad made with low-fat (canola) mayonnaise and whole-grain crackers.
Try to avoid:
White bread or other refined carbohydrates.
Fatty luncheon meats, such as bologna, salami and pepperoni.
High-fat, high-calorie cookies, cakes and other sweets.
Soda or fruit drink blends. Choose a 4-oz. carton of 100 percent fruit juice if your child asks for juice.
Corn or potato chips with trans fats. Look for brands of chips that are trans-fat-free, or substitute mini rice cakes.
Last, discuss the importance of eating a healthy lunch with your children and include them in the process. You will have more success (and less trading of lunches) if your children are involved in choosing what's for lunch.
View the original What's for lunch? Tips for packing healthy school lunches article on myOptumHealth.com

Content provided by:

These Web sites are for your informational use only. It is not a substitute for professional medical advice. It may not represent your true individual medical situation. Do not use this information to diagnose or treat a health problem or disease without consulting a qualified health care provider. Also consult your healthcare provider before starting any medications or supplements or beginning or modifying any exercise program.

© 2010 OptumHealth, Inc. All rights reserved. No part of information on this page may be reproduced or transmitted in any form or by any means, without the written permission of OptumHealth, Inc.

All content © Copyright 2000-2010, WorldNow and WHDH. All Rights Reserved.
For more information on this site, please read our
Privacy Policy
and
Terms of Service
.