A Glitch In The Matrix
Posted by Jeremy Reiner
When preparing the forecast a serious case of Deja Vu overswept me. I didn't see a cat & Trinity was not here either but the the weather maps bear a striking resemblance to last week. Rewind, shall we?....Monday was a nice day and the rest were clunkers full of clouds & rain all thanks to a slow moving storm system. Sadly (or happily if you like clouds/rain) this week follows a similar path.
Tomorrow is fantastic, easily the nicest day of the week with ample sunshine and temps from 65-70. Here's what I'm thinking for afternoon temps:
You notice the coast is much cooler. Yup, that darn sea breeze gets going mid morning and keeps temps clamped down in the low 60s for much of the afternoon. Still nice for a Monday.
OK...on to Tuesday & beyond. It's another storm and that means clouds & rain for Tuesday--mainly after lunchtime, perhaps well into the afternoon before the rain arrives on the south shore & points south of there. This storm will take a liking to New England (can't blame him) and hang around these parts on both Wednesday and Thursday with lingering clouds & showers each day. Thursday is likely a day that offers a lot of clouds but little in the way of rain--salvageable for outdoor plans. Drier weather is set to arrive by Friday.
Unless, this guy says otherwise...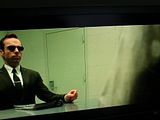 ~JR