Unsettled But Not Washed Out
Posted by Jeremy Reiner
Ready for another round of clouds & showers?...me either. Haha. While we we're all out & about soaking up that sunshine the jet stream was doing this: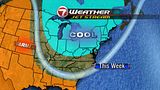 When the jet stream does that, you can plan on seeing at least a few raindrops. That's our weather until Friday--some rain, but no washouts. The thinking right now is that the heaviest rain will stay offshore over the next 3 days. Starting with tomorrow, it's a day full of clouds and the risk of a few showers before 10am but mainly dry during the afternoon. Temps crawl into the mid 50s.
For both Wednesday and Thursday, clouds will dominate but sunshine is likely each day. A few showers are also likely---Wednesday afternoon and early Thursday morning if you take a closer look. Each of those days will have long stretches of dry weather. As for the amount of rain, here's what I'm thinking for a 3 day total:
Beneficial but not overwhelming or problematic (also good for keeping pollen counts from skyrocketing).
At this time, drier weather is set to arrive by the upcoming Mothers Day weekend.
Enjoy your Monday evening!
~Jeremy