Thing 1 AND Thing 2
Posted by Jeremy Reiner
These guys?: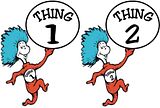 No, Thing 1 & Thing 2 will be heat & humidity. That's right, tomorrow kicks off summer (officially at 7:09pm) in a big fashion with extreme heat & humidity. Many towns, including ones along the coast, will have high temps in the mid & upper 90s and when you factor in the humidity the day will feel something like this: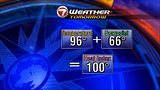 Now, I know that 96 + 66 is 162 and not 100--LOL, but I couldn't think of a symbol that represented *factoring* as in the humidity factored into the heat will result in a heat index of 100. That's dangerous heat--especially considering we've spent the past week in the 60s--for the body. Take it easy if you plan on working/playing outside for any length of time.
No different on Thursday as high pressure remains and that means the heat & humidity will also be in New England. Many towns easily reach the mid 90s.
Any t-storms with all this heat & humidity?
Actually, no--it will be too hot to see t-storms form tomorrow as well as Thursday afternoon. By Friday, a cool front will bounce into this lingering heat & humidity and that will pop some late afternoon/evening t-storms. That cool front will lead to cooler, drier air by the weekend!
~JR