Happy Thoughts
Posted by Jeremy Reiner
Get after it if you can today. An absolutely fantastic day awaits with mainly sunny skies, low humidity and seasonably warm temperatures. Great beach day too. Here's that forecast: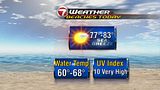 Even though it won't be as hot as a few days ago, use that sunscreen! Elsewhere, plan on similar weather for outdoor activities. The only issue for the day will be a few thin clouds that turn our brilliant morning sunshine into more of a filtered (milky) sunshine by late afternoon. Those clouds are tied to our next storm which will wobble into New England for the start of the week.
Unlike yesterdays storms, Monday's event will be an all-day type rain so there's no getting around those raindrops. IN fact, some of you may pick up an inch of beneficial rains by Monday evening. Temps will take a hit due to all the raindrops, held into the upper 60s.
For Tuesday & Wednesday, this storm is still with us just in a much weaker form. That means each of those days will offer at least partial sunshine but also the risk of some scattered showers--especially during the afternoon. Drier weather takes hold for Thursday & beyond.
~Jeremy