Bizarro World
Posted by Jeremy Reiner
Today's distribution of sunshine?.....The exact oppo of yesterday...so, Bizarro World! Yup, we start with tons of sunshine (this assumes you're up before noon) but as the day progresses, clouds will thicken and block out the sunshine leaving us with a mainly cloudy afternoon. Temps will still be hot with many towns reaching 90 before the thick clouds arrive (12-2pm). the reason is a weak little weather system moving into new England later today. this "storm" is capable of making clouds but will struggle to produce showers & storms--only a 40% of a pop-up storm after 4pm.
Looking into the upcoming week, our hot & humid pattern rolls on on with afternoon temps in the low to mid 90s with just isolated t-storms Monday & Tuesday afternoon. By Wednesday a rather strong cold front (by mid summer standards) will blast through here during the afternoon with widespread showers & thunderstorms. Some of those storms will be strong. Behind those strong storms is a refreshing bubble of dry, Canadian air for the end of the week.
For my NASCAR brothers & sisters...Let's go racin boys.....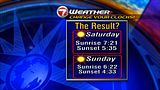 ~JR