The End
Posted by Jeremy Reiner
Summer doing its thing. Yowza what a fantabulous day with tons of sunshine, warm temps & low humidity....on a weekend no less! The weekend is coming to an end and our break from the humidity is also drawing to a close. You will probably notice it tonight--not quite as cool or comfortable for sleeping with lows in the mid & upper 60s. The arrival of this more humid air may spark an isolated shower well after midnight.
As for the next few days, sun & clouds will be the rule but with higher humidity and temps near 90 a few afternoon showers & t-storms will be possible. Tuesday offers a better chance of afternoon storms but even those will be scattered in nature. Dry air will return for midweek. Yes, that is good for vacationers but it's dry--we need some water. Check out some rainfall (or lack of) numbers for the city of Worcester: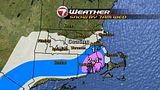 Dry indeed. Friday may offer a better chance of some more widespread (and beneficial) rain. Until then, enjoy that sunshine!
~JR