Away We Go!
Posted by Jeremy Reiner
NFL football, picking apples, some color in the trees and a crisp feel in the air. Here comes fall. Last night's front did a great job of kicking the summertime humidity out of here and now a huge bubble of Canadian air is settling in for several days. This air is dry & the thing about dry air (as you will see on the 7day) is that it can warm up with ease but also cool quickly off too. Check out tonight's forecast low temps: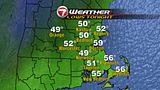 These will be the temps you encounter as you head out the front door tomorrow morning to work or school. Not ready for the chill?, no worries, as that September sun can still flex for you and will send afternoon temps up near 70 by afternoon. A healthy breeze (10-20 mph) may *mask* that mild feel to the air at times. Even cooler weather is expected late tomorrow night-early Tuesday morning with most cities & towns dipping into the 40s!
As we step through the week, the sunshine continues and with each passing day will add a couple more degrees onto the afternoon temperatures.
Do some fall planting recently? You will have to water as this pattern is loaded with dry air so no chance for rain until perhaps late next weekend.
Have a great week!
~JR