Settle Down
Posted by Jeremy Reiner
Ready for a quiet weather pattern? Me too. Here's why it's been so stormy lately: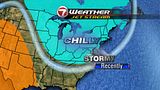 That ol jet stream all buckled up with no place to go. That big dip it's taking in that picture promotes big/nasty slow moving storms. Sandy and the nor'easter are exhibits A & B. Thankfully, the pattern will settle down as the jet stream will now look like this for a few days: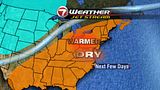 All the storminess will shift to the west coast over the next 5-10 days and that will give us here in the east a much deserved break. Getting into this newfangled pattern will be some weather. It's a warm front---the front edge of the warmer air--and that front will produce a batch of clouds by this afternoon into the first part of Sunday. Look for afternoon temps to reach 50 today and into the mid 50s tomorrow. By Monday we're even warmer with temps reaching the mid 60s! Our next chance of rain is Tuesday---not from a storm but rather a cold front. Until then...enjoy the break!
~JR