Shuffling the Deck
Posted by Jeremy Reiner
After a crazy couple of weeks, it's time to mix things up a bit with our weather pattern. Here's what the new pattern will look like for a few days: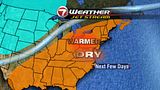 All the storminess will shift to the west coast over the next 5-10 days and that will give us here in the east a much deserved break and allow temps to warm to above normal temps tomorrow & again on Monday. Getting into this newfangled pattern will mean a few clouds darting across the skies overnight tonight & tomorrow.be some weather. It's a warm front---which can sometimes produce rain but this go-around it's just some clouds sharing the sky with the sun. In terms of temperatures, I think we will make a run at 60 tomorrow afternoon. great for yardwork, flag football or of course Pats-Bills game at Gillette.
On Monday, we're even warmer as temps start the day in the upper 40s. Such a warm start means we can reach the 60s and perhaps flirt with 70 by afternoon. Look for a mix of sun & clouds.
Tuesday is moving day again--this time it's a cool front that will move the 60s out of the way for the 50s. it also means clouds take over the sky and unlike our warm front this cool front will toss some raindrops your way on Tuesday.
~JR