Back To Normal
Posted by Jeremy Reiner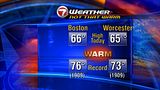 Certainly a warm day across New England even if it wasn't record warmth. Can we push our spring-like temps into Tuesday. Sort of, yes but not the whole day.
That means cooler air is set to return and in order to see the chill return we will have to go through some raindrops. Those raindrops are tied to a cool front--the front edge of cooler air--and that front will produce a band of rain tomorrow morning. It will still be mild tomorrow morning with many towns starting the day in the upper 50s but as the raindrops leave town mid afternoon--let's say 3pm--that's when the warmth will also leave town. So grab the fall coats/jackets as temps will be down near 50 by the time you leave work or after school activities wrap.
After this front, we've got bingo. We also have a large area of high pressure that will deliver sunshine to New England for the remainder of the week. This high pressure system is coming from Canada, eh, so plan on a return to November temps with morning lows in the 30s and afternoon highs from 45-50.
Simple as that. Have a great week.
~JR