Take the Good, Take the Bad
Posted by Pete Bouchard
Rain, rain, rain...
...but for many today was a day of hurry up and wait. Sure there were showers, but not every minute was washed out. With the events unfolding tonight, that's about to change.
Perhaps you saw this ominous sky on the South Shore this afternoon: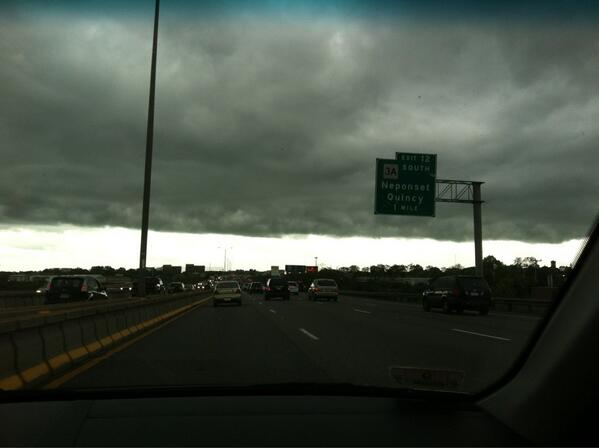 (Thanks to @beachgirl373)
Had folks in a frenzy. Looked like a tornado was about to form and the sky was about to fall. But it was merely a batch of cold air moving through. Right after, the temperatures dropped a good 15 degrees!
And the table was set. Next up, a coastal storm will be forming overnight. That will draw all the rain together and fill in the gaps in the radar. It also means that we'll be seeing up to 1-2 MORE inches of rain areawide through tonight and tomorrow.
Dandy.
Wait 'til I get started.

As cold air is drawn into the storm Saturday night, some of the higher elevations of Worcester county will see some wet snowflakes mix in with the rain. Preposterous? You bet. Impossible? Not quite.
First off, we're not talking accumulations here. (But the mere mention of flakes can draw outrage from some folks.) We're talking about snowflakes mixing with raindrops. And all it takes is...
1) A strong coastal storm (mini nor'easter).
Check
2) A batch of unseasonably cold air.
Check
3) Temps in the upper 30s
Check (Saturday Night)
What may be lacking is strong uplift in the storm, but with such a mighty low pressure at sea, I'm not thinking this will be difficult to overcome.
Anyway, time to talk about the sun returning on Sunday...which it will by afternoon. We're not going to see the temperatures skyrocket, however. Still in the upper 50s. And a few more scattered showers early and late.
Monday's the prize winner of the three. Sun, good breeze, dry air. Highs near 70. We'll take it.
And finally on this Memorial Day weekend eve, take a moment to reflect on all those that gave their lives in service to our country. Heroes are all around us in the armed services, but there are far more that paid the ultimate sacrifice.
Be safe and watch for motorcycles and pedestrians!
Pete