Worlds Apart
Posted by Pete Bouchard
It's almost September, and while some would argue it's the finest month of the year (this guy), others may look at the foggier side of things. With the nights lengthening, the air can cool a little more. And unless you dry the air out, the moisture will condense and form thick fog banks.
Here it is from the bridge heading into Gloucester:
(Thanks to @mersdwxman)
And here it is from space: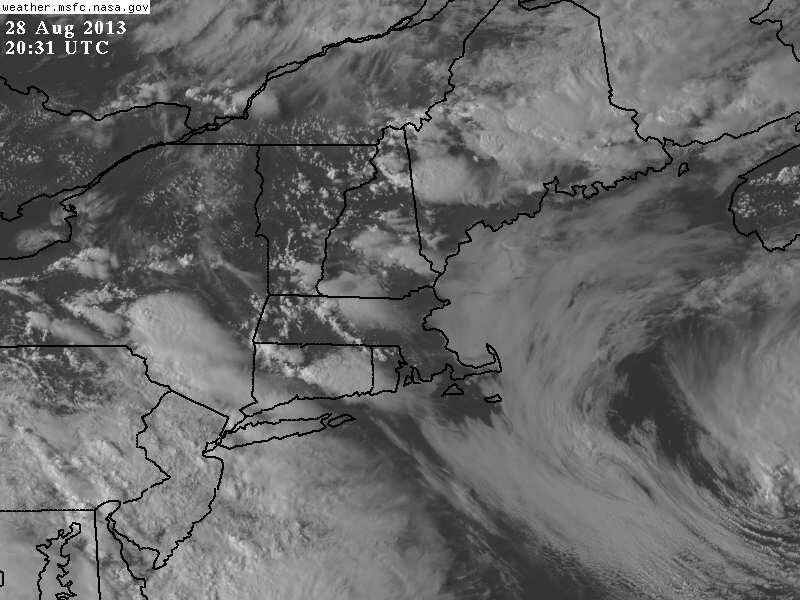 It was born from that compact weather system yesterday, and spread like a western wildfire to Nova Scotia. Now with a gentle northeast wind to buffet our shores, our goose is cooked. I don't see it releasing it's grip on the beaches of Eastern Mass. tomorrow. Sure, we may see some gimpses of afternoon sun, but we're not talking a lot of blue.
That's at the coast/Capes/Islands. Elsewhere, the fog shouldn't be much of a factor. And in Central Mass, we're in another world: highs near 80 and a standing threat (albeit small) for a passing afternoon storm.
Now the weekend. Ahhh, the weekend. Lots of plans, lots of hope, lots of eyes on the forecast. It's not washed out, but the storm threat in Central Mass. will spread east. Each afternoon from Saturday through Labor Day we'll have to dodge one or more storms. Some may have some torrential rain, others may miss you entirely - it's all at the whim of the storm's track. Plan on working around them and adjusting your plans accordingly.
Pete